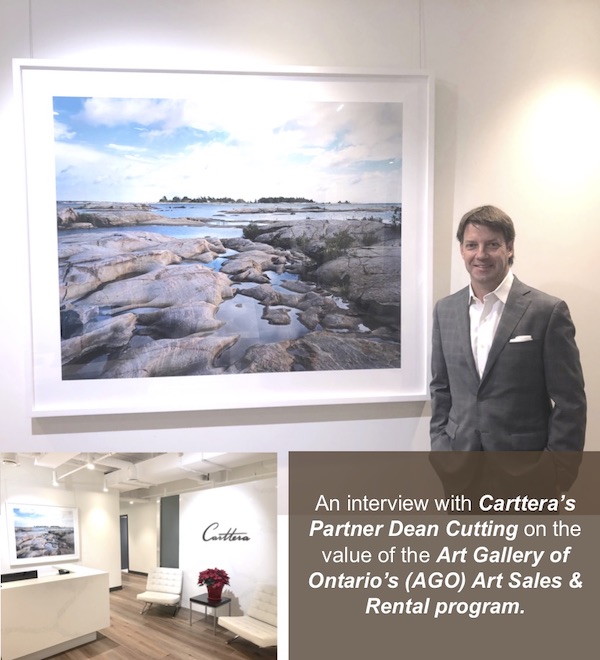 How did you hear about the AGO Art Sales & Rental Program?
As a former AGO volunteer and having participated in the art rental program for many years on a personal level, I saw an opportunity to contribute on a corporate level when Carttera relocated to our news offices in the summer of 2018.
Why did you choose the AGO Art Rental Program?
There are several reasons why we felt this program was important to support. The first being the ability to support and celebrate many talented local Canadian artists. The second being the excellent quality and wide-range of rotating inventory suited to Carttera's individual aesthetics and interior design. And finally, all proceeds from the rental program benefit the AGO public programs and the artists directly.
How often is the artwork updated?
The terms of when the artwork gets updated is up to us. We choose to refresh our pieces every three months, which follows the rhythm of our fiduciary quarterly reporting regimen. The AGO offers various terms from three months to several years; whatever best suits the client.
Does the AGO tailor artwork to an organization's specific industry or aesthetic?
The AGO makes it easy and sends a curator/designer to review the environment, checking for size, space, lighting and overall feel. The curator then assembles a portfolio of recommended pieces to suit the space. In our instance, the artwork hangs prominently in the lobby behind our reception desk, adding a pop of colour and sense of liveliness.
Beyond the art itself, what other benefits come with being involved with such a program?
This program also promotes employee engagement: Every quarter, we gather input from different Carttera team members to choose the final piece based on the shortlist from the curator. Sometimes it's a unanimous decision, and other times we put it to vote. It's a great way to get everyone involved, and everyone thinking about art.
Has there been a favourite piece of artwork?
It's truly difficult to choose just one. All installed pieces from the AGO have been appreciated by our staff, clients and visitors. We believe that this program has been a great success. It's also valuable to know that if there's a piece that is particularly adored, we are able to make a permanent purchase!
About The Current Artwork
Clearing Storm, Outer Shoals by Joseph Hartman
After receiving a Master's degree in Kinesiology at the University of McMaster in 2004 and being accepted into Medical School, Joseph Hartman decided to pursue a career as an artist. Hartman, a self-taught photographer, apprenticed with Canadian photographer Edward Burtynsky for over four years. 
Hartman's work arises from his curiosity about the interaction between humans and landscape and how each influences the other. In his first main series, "Highway 69" he made large format photographs of landscapes in a transitional state; choosing to record the landscape as it is transformed into a new place. His subjects include highway construction and large urban demolition sites. Hartman finds the concept of transition intriguing, using the subject to articulate basic human desire and our need for progress. In Hartman's work the deconstruction of large buildings signifies change in human perception; what was once seen as progress is now seen as a hindrance. His photographs tell a story about society through what Hartman calls, "monuments of our time."
Joseph Hartman's work has been exhibited in private and public galleries across Canada and his photographs are in private and corporate collections across North America.
The Art Gallery of Ontario's art rental & sales program has been around since 1965 and supplies artwork from Toronto's top galleries and independent artists. For more information, go to https://ago.ca/shop/art-rental-sales.